2016 edition of EduSERV14 will take place in Warsaw, Poland, from 7th to 8th March 2016.
Conference will be hosted by University of Warsaw in one of its buildings on main Campus located in Warsaw's Old Town.
Programme
Welcome addresses (EuroSDR, University of Warsaw)
RPAS in land survey – theory and practice,  M. Cramer, University of Stuttgart and G. Grenzdörffer, University of  Rostock
International Standards for Geographic Information, W. Kresse, University of Applied Sciences, Neubrandenburg,
Presentation of the Moodle Learning Management System, M. Potůčková, Charles University in Prague
3D City Modelling, Ravi Peters, Delft University of Technology
SAR for Mapping Applications, Olaf Hellwich,  Technical University Berlin
Conference Venue
Conference will take place in Tyszkiewicz–Potocki Palace (Krakowskie Przedmiescie 32, 00-927 Warszawa), located in University of Warsaw main campus, Krakowskie Przedmieście street. Tyszkiewicz–Potocki Palace was  build in XVIII century and its often refered as one of the most beautiful neoclassical buildings in the entire city.
Hotel Reservations
We recommend Hotel Harenda** for our conference guests. The Hotel is located next to University of Warsaw Campus. Special room booking with 15% discount is available until 15.01.2016. Single room at the SofitelHotel***** costs 130-150 EUR per day for conference guests. At your convenience we can recommend other hotels located close to conference venue.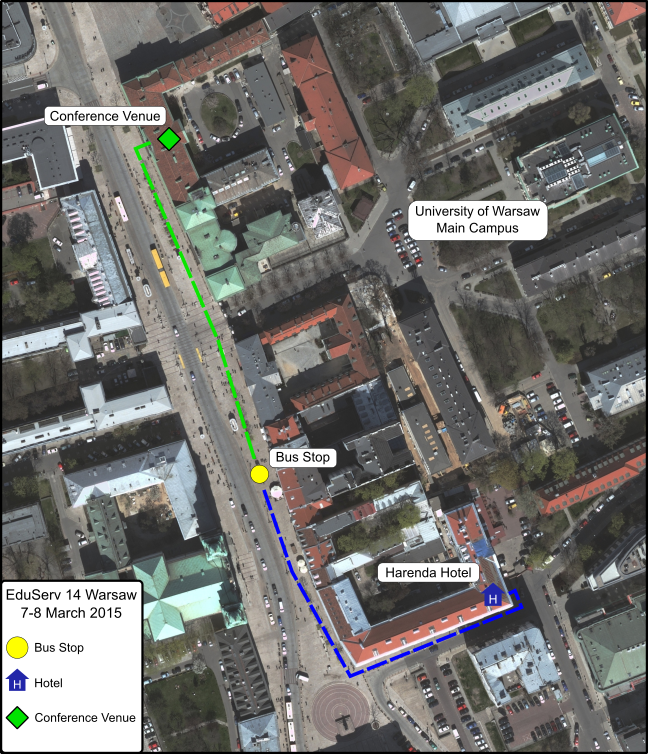 Travel from Airport
Main Warsaw Chopin Airport (WAW):
Take bus number 175 (don't forget to buy ticket from ticket vending machine or directly from bus driver, one-way ticket costs 4.40 PLN, ~1.00 EUR) to get directly to University of Warsaw main Campus (exit at Uniwersytet Warszawski bus stop). Hotel Harenda is about 2 minutes of walk from this point. Alternatively take numerous TAXI's that are available at the Airport.
Modlin Warsaw Airport (WMI):
Take special Airport-City Bus to City Center (Modlin Bus) or a shuttle airports train (first bus to Modlin town, and then Modlin-Warsaw train with a final destination of the Chopin airport). Exit at Pałac Kultury i Nauki stop. Then go to Świętokrzyska Underground Station and travel one stop in direction of Dworzec Wileński (station Nowy Świat). Then head in direction of Old Town. You should find Hotel Harenda on the right side of the street and University of Warszaw Campus entrance 50 meters further ahead from it. Alternatively when you exit Airport-City Bus find bus stop located on the oposite side of Dmowski Roundabout (next to Novotel Hotel) and take bus number 175. Exit at Uniwersytet Warszawski bus stop. Hotel Harenda is about 2 minutes of travel from this point.
Gala dinner:
The Browarmia Restaurant (Królewska 1, entrance from the Krakowskie Przedmieście), which is located on the opposite side of the street of the Potocki's Palast (Krakowskie Przedmieście 32) – venu of the seminar.